The Independent Review of UK Government Welfare Services for Veterans: What did we learn and what needs to change?
In March 2023, the Ministry of Defence (MoD) and the Office for Veterans' Affairs (OVA) launched an independent review of veteran welfare services overseen by the UK government. The review aimed to evaluate the effectiveness and efficiency of government-administered veteran welfare services, primarily managed by the MoD, and make recommendations for potential enhancements.
The review acknowledged the complexity of the UK government veteran welfare system, identifying seven distinct welfare services that fell within the scope of the review;
The Veteran Welfare Service (VWS) offers support to veterans and their families following unexpected changes to their personal circumstances.
The Defence Transition Services (DTS) provides support for particularly vulnerable Service leavers and their families who are in their transition out of Service.
The Integrated Personal Commissioning for Veterans Framework (IPC4V) supports individuals after Service with complex and enduring health conditions resulting from a Service injury.
Ilford Park Polish Home (IPPH) is a residential care home catering to individuals who were members of the Polish Forces fighting for Britain in the Second World War, and their spouses.
The Veterans Advisory and Pensions Committees (VAPCs) were previously responsible for providing guidance on war pensions although this role is now filled by organisations such as the Citizens Advice Bureau, and so their current function is poorly defined.
Northern Ireland Veterans' Support Office (NIVSO) was established to promote, guide and support applications for grant funding for Northern Ireland-based projects.
Veterans' Gateway (VG) funded by OVA and delivered by the Royal British Legion (RBL), was developed as a single point of contact for veterans and their families to access relevant support. Currently it offers a 24-hour helpline and support search engine.
The review process involved extensive engagement with key stakeholders, including charitable organizations within the veteran welfare network and other government departments responsible for veteran services. The team also organized focus groups involving veterans and charity representatives and analysed secondary data from internal MoD sources, GOV.UK, and the Office for National Statistics.
The key findings from the review include:
The current UK government welfare system for veterans is over-complicated and fragmented. There is an overwhelming volume of support services and a poor definition of their responsibilities. This causes confusion for both users and providers and as a result, risks inefficiency and dissuading ex-Service personnel from engaging with services.
There is poor differentiation between the roles of the MoD and OVA in welfare service provision. There is currently a lack of understanding about which body delivers differing aspects of the veterans welfare system for ex-Service personnel. This results in general confusion over who is responsible for addressing issues, a lack of accountability and poor clarity for users and service providers.
The report highlights significant shortcomings in data collection, storage, and sharing within welfare services. Many files are still in hard copy format and are only digitized through manual scanning. The existing Case Management System (CMS) used by welfare services lacks flexibility and fails to provide a comprehensive view of user interactions. Despite ongoing digital transformation efforts, there are gaps in improving the system and this is particularly for VWS and DTS teams.
Many services are not adequately funded, limiting their effectiveness. This persistent lack of investment in veterans' welfare services has led to several issues, such as coherence problems, data gaps, and communication challenges. Insufficient resources also directly impact service provision staff, leading to under-trained staff with heavy and overwhelming caseloads.
Trust in the effectiveness of services has significantly deteriorated due to issues such as historically poor funding of welfare services leading to difficulty in providing support and poor communication with service users. This has contributed to some ex-Service personnel having the perception that the MoD is not concerned with their welfare once they leave the military, causing misguided distrust by ex-Service personnel of MoD welfare services.
Poor communication between services and users is a considerable issue. This was an issue across various services, particularly in VWS. It was noted that there are poor levels of awareness of available services amongst stakeholders and users due to limited wider communication and communication issues arising in direct communications with individual users.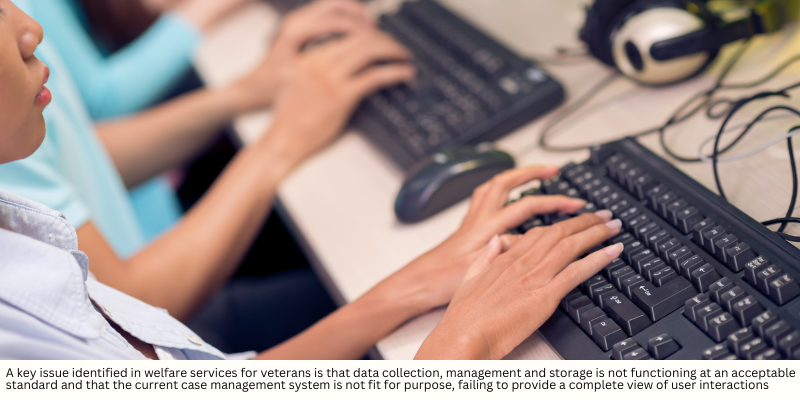 In response to the issues raised, the review provides a range of recommendations:
A new coherent and fully integrated model of welfare support for veterans should be developed and implemented. It requires participation from the entire sector, with a clear delineation of responsibility to help address the over-complication of the welfare services and prevent confusion. The key focus is that this model should put the service user at its heart and be inclusive of family members and the bereaved.
The role of the MoD and OVA in supporting veterans should be delineated and communicated. It should be clear to stakeholders and users that the MoD's key responsibilities are the direct delivery of specific welfare services to veterans. Meanwhile, the OVA is responsible for coordinating strategic efforts, ensuring services deliver support effectively and developing pathways for veterans.
A high-quality through-service education and support programme that prepares personnel throughout their military life for civilian life should be implemented. This program will inform Service personnel on how to adjust to civilian life during and after their transition. Successfully implementing a high-quality, effective program that benefits ex-Service personnel will help to rebuild user trust in welfare services for veterans.
A high-quality casework management system must be implemented within key welfare services. This system should be flexible and interoperable with other relevant MoD systems, offer clear visibility of user data, and provide management information enabling better handling of demand and outcomes of services by the MoD.
All established and new UK government welfare services for veterans should be evaluated for scope, time, and eligibility limitations. This will provide a more in-depth understanding of each service's specific requirements. Consequently, it will enable funding and resources to be more effectively allocated. This will help mitigate the risk of services facing unsustainable financial challenges. In turn, this will facilitate higher quality delivery of services that are better suited to the needs of users.
A new joint MoD/OVA communications and engagement strategy should be designed and implemented. This strategy will place the service user at the core, using simple and user-friendly language. Its aim is to clearly convey information about the various services, their scope, and eligibility criteria in a manner that is easily comprehensible to the intended audience. This strategy is expected to enhance the connections between the services and their stakeholders, including Service personnel, ex-Service personnel, and their families.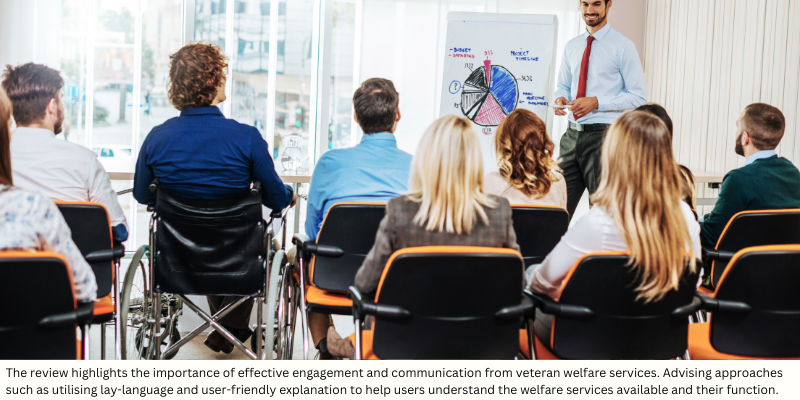 The review of the UK government's provision of welfare services to UK veterans had some methodological limitations, such as a short amount of time, limited staffing, and a complex welfare service system to navigate. These difficulties are acknowledged and addressed within the report. With this considered, building on this work with more in-depth research could be beneficial to further explore the relationship between ex-Service personnel and the welfare service landscape. This will ensure future developments in the welfare service landscape are based on robust evidence. Moreover, if the review's recommendations are implemented there should be rigorous evaluation to determine their efficacy.
Regardless of limitations, the review provides an insightful snapshot of the system and a basis for building new approaches to improving the coordination and delivery of welfare services to ex-Service personnel and their families. The findings show that there is a broad range of support available to ex-Service personnel and their families in the UK. However, the UK government's welfare services for veterans exist within a complex network that, in many areas, lacks clear direction and defined purpose. Despite the efforts of passionate staff, services are struggling to deliver due to poor communication, deteriorating trust from ex-Service personnel, and insufficient funding.
The recommendations put forward by this review are a practical and innovative response to these issues and aim to improve the service for users and providers. They consider that the changing veteran population over the next decade necessitates a flexible and responsive support system and that the key focus is on creating a well-coordinated, user-centric, and navigable provision of welfare services that addresses the specific needs of veterans during their transition to civilian life. The given recommendations should therefore be carefully considered in view of taking steps to improve the effectiveness and efficiency of the veterans' welfare system in the UK, whilst keeping service users at the heart of the issue.